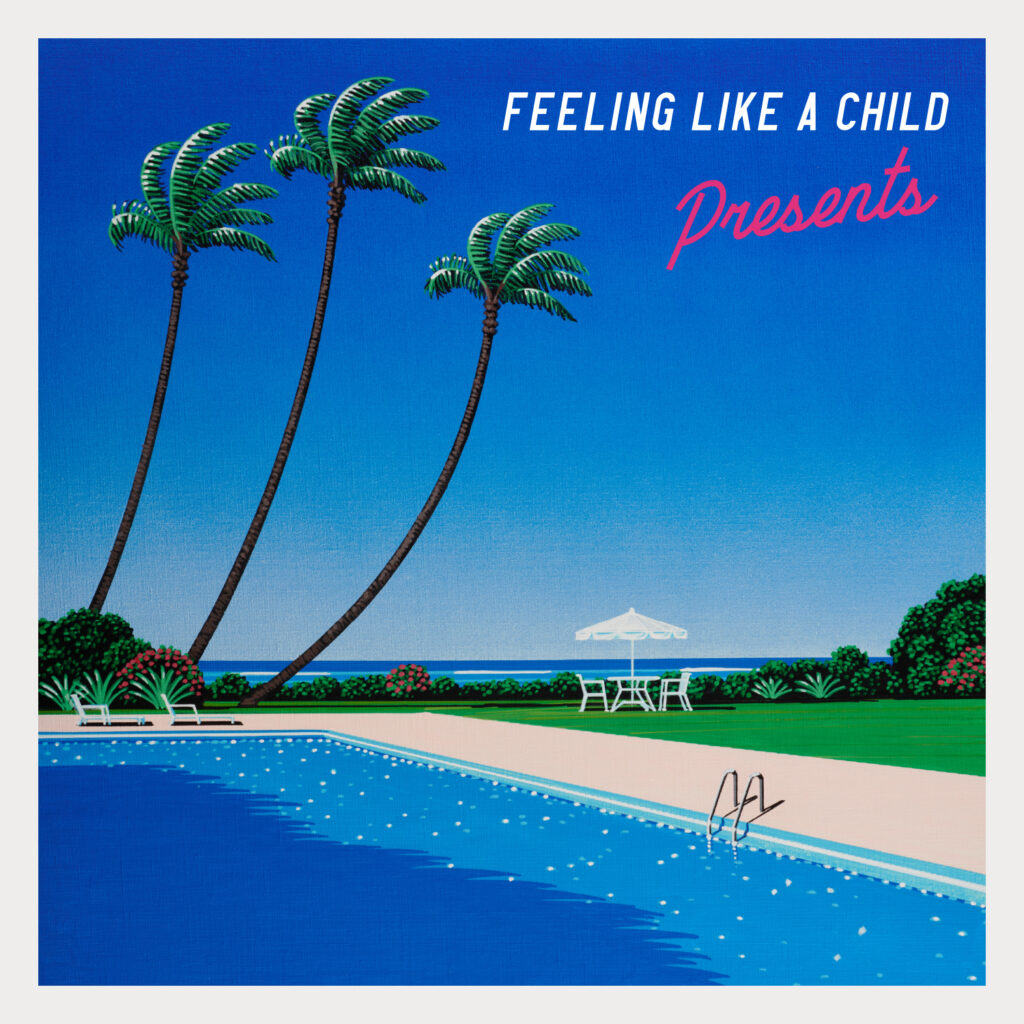 80's Tokyo City Pop! Miraculous private recordings of Feeling Like A Child have finally been unearthed after 42 years! Nine songs recorded quietly as a graduation project by a group of childhood friends in Tokyo Nakano and Nerima.
The authentic city pop content caught the attention of used record store staff, and on November 3, 2022, 42 years after it was recorded, it will be released in three new formats (CD, analog record, and digital distribution)! Artwork by Hiroshi Nagai, commentary by Hitoshi Kurimoto.
You've got great sensitivity and taste in music, these are the kind of people you find if you look for them, it's amazing!
I'm amazed you got this far with home recording in a time when there was nothing like what we have now! 
How could such a work have remained ? Tight and groovy performances, pop melodies, and stylish numbers with vocals that switch from one song to the next, this is a superb piece of pop music from 1980 that was made to be listened to 42 years later. We hope you will take the time to enjoy this masterpiece from Presents, which is now etched in the history of Japanese pop music. 
Hitoshi Kurimoto (Travel & Music Writer / Music Selector)
Presents
Fumio MIURA, Keyboards, Percussion, Vocal
Kiyo (Kiyoaki NAKAMURA ),Guitar, Vocal
Chabo (Shunya HASHIMOTO), Guitar, Percussion, Vocal
Takeshi NAKAJIMA, Bass, Vocal
Tadashi NOGUCHI, Drums, Percussion, Vocal
Reiko HIBINO Vocal, Chorus
Yurippe (Yuriko YAMAZAKI), Chorus
USHI Band Horn Session
Shinsuke SASAKI,Trumpet, Brass Arrange, Toshikatsu KAWADA, Takeshi SHIMAMURA, Alto Sax, Ichiro NAKAJIMA, Tenor and Soprano Sax
Producer, Recording Engineer: Fumio MIURA
Mix & Mastering Engineer: Daichi YUHARA
Recording Studio: Miura's room in Higashi-Nakano (Nakano, Tokyo)
Mix Studio: Kansai University Socio-Acoustic Studio (Suita, Osaka)
Mix & Mastering Studio: STUDIO YOU (Suita, Osaka)
Analog Tape Digital Convert: Studio 1812 (Nishinomiya City, Hyogo )
Recording Date: March 10-23, 1980
Special Thanks: Osamu Goto, Tadafumi Okada, Fumiya Sato, Takahito Saito, Toshihiro Nakajima, Kazuo Kojima, Tetsuo Kawaguchi, Masakazu Kato, Kaoru Kobayashi, Nodoka Ikeda, Miura Family
2022 Reissue Staff
Producer: Fumio Miura
illustration: Hiroshi Nagai
Art Direction & Design: YOXXX
Art Work Coordination: Hirohisa Nakamura (4TR Inc)
Supervisor: Masato Komatsu (HMV record shop/ Lawson Entertainment, Inc. )
Special Thanks: Yukinari Yuwata (Crusic)
Lisensed by SOYOGO record / FM Lab, Inc
Manufactured & Distributed by HMV record shop.
A division of Lawson Entertainment, Inc. (Vinyl)
Manufactured & Distributed by 4TRACKS RECORDS. / 4TR Inc. (CD)